Palace Penthouse in Top 100 Italian beauty spot for sale. Medieval meets contemporary.
Simply pictures. Please scroll down for more photos of this and of the other sale
a quality property, a great price, private sun terrace with views ... priceless!
and spacious rooms indoors...
a huge bedroom...
a contemporary bathroom...
Views from indoors as well ...
... as from the terrace outside :
From the partly shaded sun terrace to...
...spacious seclusion above an Italian beauty spot
All the conveniences you need for an easy stay:
Characterful! Spaciousness laced with objects d'arte ...
sunny tranquility for two
Penthouse asking price in the region of GBP £150,000 Sterling
The palace penthouse atop the palace, outlined in red:
***
Now... another property for sale in the same palace by the same owner (divorce)
***
Property 2 of 2 for sale is a huge, 150m² apartment with sun terrace
That's over 1,600 square feet!
10 rooms, plus halls, plus storage, plus off-street store
The Palace Chambers of a Napoleonic General is
for Sale in the region of GBP £175,000 Sterling
3-4 bedrooms, 2 bathrooms, storage & all the usual living rooms
*** New photos to come, here, by late June 2017 ***
For now, see below, scroll down for older photos of this amazing property...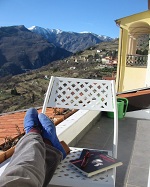 10 rooms. Over 1,600ft²! 3 or 4 bedrooms, 2 bathrooms, etc. 1 sun terrace with panoramic views
Vaulted ceiling dining/living rooms, large bedrooms & living spaces with high ceilings. Marble bathroom & kitchen.
Kitchen & bathrooms are fitted & finished with all appliances. Heated floor in bathrooms.
Central heating system, wood pellets stove and log burner also.
Gas store adjacent, off street, for cooking gas and wood, etc.
Terrace has stunning views and sunshine all day long. 3 entrance halls.
New plumbing/electrics throughout.
Asking around £175,000 Sterling GBP
*
Triora is one of the top-100 beautiful villages in Italy
"I BORGHI PIU' BELLI D'ITALIA"
*
Triora is only 90 minutes drive from Nice airport in France
only 40 from the Riviera.
*
Rivers, lakes & walks galore.
Panoramic views that are simply stunning!
*
Roads are generally traffic-free, a driver's dream
*
"Triora is like The English Lake District WITH good weather and MORE history."
GUEST'S COMMENT, 2011
*
"Triora is a bit like Machu Picchu ... without having to travel to Peru!"
GUEST'S COMMENT, 2012