F.C.C. ||:|| www.rarecards.co.uk ||:|| RARE FOOTBALL CARDS
ARTICLES April 2016. For other articles see link below, at the bottom of this page
The CRESCENT CONFECTIONERY Co. Ltd
The Crescent Confectionery Company issued some of the rarest sports cards known. Today their cards sell for up to £1000's each!
Yet, until now, collectors did not know that there were, in fact, at least two Crescents! The cards were not issued by the same firm
but by different companies sharing the name. The first firm thrived until 1926; the second vanished by 1931, yet they left us with
two of the defining sports cards series of the art deco era. The story has been largely unknown until now.
Thanks go to Doreen Hedley for her knowledge of the former firm, and for some answers to the mystery of the latter.
Without her much of this article would remain unwritten and these things unknown. Her photos beautifully decorate our monotone
images of the cards that her great grandfather, and his successors at Crescent, issued as gifts with their confectionery, 90 years ago.
When writing of the 1920s, the jazz age, the time of Howard Carter & King Tut, and the very decade of Crescent cards, certain
similarities between that world and our own times emerge, not least in the area of economics. Don't worry! No boring stuff to come.
The Roaring '20s experienced deflation (happening nowadays too) and boom & bust (we know something of that also) and a massive
upsurge in the production of sports trade cards! Bathos aside, this is true. Barratt, Bunsen and even Baines are testimony to this.
Baines had been the Victorian & Edwardian powerhouse in sports cards production. Baines re-launched shaped trade cards in
the 1920's, to compete with Boys' Magazine, Battocks, Bunsen and Crescent, in the ever more popular sports trade card market.
The 1920 photo below shows the factory, on The Crescent, in Salford, c.1910.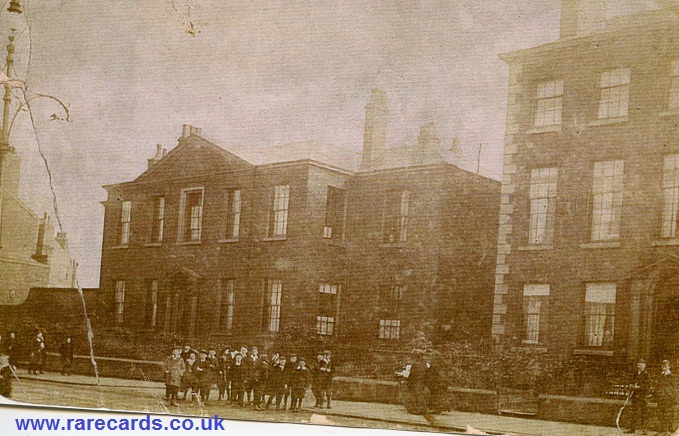 Most 1920s cards were issued with comics but Crescent cards came with sweets, like those of Bunsen and Barratt.
The sports cards made by these firms are a generally unrecognised miracle of flappers' good fortunes - enjoyed today!
By enormous margins these cards have made windfalls for their erstwhile owners, and continue to do so for sellers.
Most 1920s trade cards were thrown away, lost or destroyed. Surviving copies have come to be valued highly.
Issued with sweets or pharmaceuticals, like throat lozenges, Crescent's small cards celebrated sporting greats of the time,
notably famous footballers, and other subjects like famous people, military heroes, uniforms & weapons.

This 1910 photo shows the view of The Crescent from the Crescent factory itself. Today, the University of Salford stands here.
The Crescent letterhead atop describes some of the firm's products, including a 'chlorodyne lozenge', which was sold as an
over-the-counter cure for bronchitis. Are Crescent cards perchance rarer than Barratt cards due to their association, in some
cases, with unpopular produce? Lozenges for coughs don't seem the most attractive reason to spend pocket money to collect
football cards. Moreover, these days the Crescent cough pastel would be more than a little risqué. It was made of an arcane mix
of laudanum, from opium, with cannabis tincture! No doubt today's multinational-controlled pharmaceutical industry wouldn't
approve of such 'natural' medicines interfering with its billions in profit from patented artificial drugs designed to keep us... ill.
Cards issued by Crescent, especially the sports cards, are some of the rarest, and, I suggest, the most under-valued trade cards
on the market today. Under-valued? How can I suggest such a thing? Many readers will recall that a certain golfer on a
Crescent Confectionery Cigarettes card recently sold for more than £2,000 Sterling. See below for image. Well, I suggest that it
sold at about the right price level considering the world market for golf cards. Soccer cards by the same issuer are under-valued
at only c.£100 each. Undervalued because the market is bare of them, they cannot easily be found and some, rather silly price
guides would have you think that the cards are valued as lowly as... a set of car floor mats! The cards were printed and
packaged in a major city (Manchester), as were Barratt & Co.'s sports cards (London) yet rare Barratt cards of the mid-1920s
are seen much more frequently. This must be due to better distribution & sales by Barratt, a firm that seems to have also
succeeded in stamping-out the competition, in the likes of Bunsen, the later incarnation of Crescent & other, similar competitors
from the 1920s sweets'n'sports cards market.

above: examples of the 1923-24 footballers, Below, an example of what even a creased card can make in 2016 - £90.00!
The first Crescent Confectionery Company Ltd., 'The Great Novelty House' as it branded itself, had made confectionery
for at least 30 years under the guidance of its long-standing director, Mr. John Jackson. He was a former travelling
salesman who did porridge with hard labour in the early 1890s following a bankruptcy. Here John Jackson is seen with
three of his children, sometime around the time of The Great War
John Jackson turned his life around and left a legacy of success by the time he retired, aged 76.
His successful firm had its roots as far back as 1897. It had made and sold confectionery, cough cures and, of course, football
cards, the first series of which we now know and love as the Crescent footballers. These cards are the ones with a
greenish-grey tint, quality photographs and a decorative art nouveau pattern to the rear. They can be dated to 1923-1924 by the
players and teams included, for example Hammer's legend, Danny Shea. The Crescent footballers card of Shea shows the star
at Coventry City. Shea played for City during 1923-24. He had moved to Orient by late 1924. This card surely would not have
been designed nor print-set much later than the end of 1924, by when Shea was back in London. The weekly football magazine
of the time, Topical Times, was a great way of keeping soccer card printers, like Crescent, up to date with the all team transfers.
John Jackson's earlier firm Jackson & Hoyle Confectioners, had long been based at The Crescent, along with his family, in
residence there since 1891. During the years of Jackson & Hoyle, Elizabeth Jane Nuttall, his wife, was in business herself, and
according to a note in the London Gazette of 27th April 1897 The Crescent Confectionery Company was listed as her firm!
Here she is, in the photo below, shown with John Jackson
John Jackson outlived his wife by three decades. He retired in 1926 when their Crescent Confectionery Co. Ltd. ceased
trading. As John Jackson's great granddaughter, researcher & family archivist, Doreen Hedley confirms, "My mum…her
parents and siblings lived [with John Jackson, grandfather] at The Crescent until approximately 1927 [by] when
they all left the factory to live with her other grandfather, also in Salford." Doreen continues, "John Jackson went to
live with his [other] daughter, at whose home he died on 10th June 1929, aged 79."
Ironically the cause of his death was bronchitis, for which the Crescent chlorodyne lozenges had been intended to aid.
In 1926 a new, private company limited by shares was launched. It used the same name and it was based at the
same site yet it was neither the same company nor was the Jackson family behind it.

The Crescent Confectionery Co. (1926) Ltd., as the second firm was called, produced two series of cards.
Both had plain backs. A series of 100 cards of various themes (issued in sub-sets of 10s) featuring army, navy,
sportsmen and footballers, being the 8th series of 10. Those ten cards included Sam Wadsworth of Huddersfield Town.
He dates this set because he moved to Burnley in 1929.
After 1930 a second series of cards with plain backs was issued. We have come to know it as the Sportsmen series.
There were 100 cards including Jack Carr (#3) of Blackpool. He dates this, latter set to 1930-31 as he was at Boro until May
of 1930.
So, we can now, finally date the three series of Crescent cards, issued by the two firms:
a. 'Footballers' (greenish-grey printing, cards with decorous printed backs) are from 1923-24;
b. 'General interest', i.e. various themes cards, plain backs, numbered as sub-sets of 10s are from 1927-28;
and
c. 'Sportsmen', with plain backs, numbered 1 to 100, are from 1930-31.
Here are a few of the cards from the two later series, produced by the later Crescent company.
These images are not to scale.
Of what happened to this short-lived limited company, little is known. It disappeared from the public record after 1930.
To survive pressure from Barratt's it may have joined Cadbury's (see photo, below).
The factory in Manchester continued to make sweets under the guidance of a former worker at Crescent.
The doyen at Neureuter T. Manufacturing Confectioners, Crescent's successor in Salford, was, as Doreen notes,
"Toni Neureuter…she and her sister were at the [Crescent] factory when my mum and her sisters
were living there… in the early 1920s."
Cadbury's Crescent, perchance?
There are many more images of cards and Crescent's history, and its founding family down this page so please do scroll down
copyright © Carl Wilkes 2016 ©
Carl Wilkes is the creator and former publisher-editor of "F.C.C.M."
---------------------------------------------------------------------------------------------------------------------------------------------------------------
Below are shown some Crescent cards and also some more of Doreen's family photographs, of the children of Crescent.

Pictured here is John Jackson's son, John Thomas, grandfather to Doreen Hedley.
He sits aside with Annie, his wife & their three children.
The Van Ralty photograph, below, shows the founder's son Samuel and his wife Polly, on the eve of war, 1914.
Here are some images of Crescent cards by the later issuer, the second Crescent company.
1927-28 mixed subjects series, above left; and a 1930 footballer from the sportsmen series, above right.
Note the letterpress and other printing differences between these two similar but distinctly different series.

Below : the £2,000 Bobby Jones card from the 1930 Sportsmen series.

This card was initially offered for sale at £4,000 but made at least £2,000 Sterling.
Not a bad investment, a card that cost its original owner halfpenny to buy,
and modern-day seller a half of his final sale price.